กกMAE HONG SON
(THAILAND)
MAE HONG SON
is nestled in a deep valley hemmed in by high mountain ranges, Mae Hong Son has long been isolated from the outside world. Virtually covered with mist throughout the year, the name refers to the fact that is terrain is highly suitable for the training of elephants.
Former governors of Chiang Mai used to organise the rounding up of wild elephants which were then trained before being sent to the capital for work. Today, Mae Hong Son is one of the dream destinations for visitors. Daily flights into its small airport bring growing numbers of tourists, attracted by the spectacular scenery, numerous hilltribe communities and soft adventure opportunities.
THAI YAI CULTURE
The Thai Yai can be seen along the northern border with Myanmar. They may at one time have been the most numerous of the ethnic Thai tribes that stretch across Southeast Asia. A large group settled in Mae Hong Son.
The Thai Yai culture has had a strong influence on the province, as can be seen in its architecture. Although a part of the Lanna region, the indigenous Thai Yai people living in Mae Hong Son are faced with very cold weather during winter and extremely hot weather in the summer, with mist or fog practically throughout the whole year. Not surprisingly they have had to adapt to the environment.
As a result, their architectural style has developed into something different from other Lanna communities. Their living quarters are usually built with tall floors and low roofs, the sizes differing according to ones social status and position. Homes of the ordinary folks are usually with one single level of roof, while those of the local aristocrats have two or more levels forming a castle-like shape. The space thus provided is believed to help air circulation. An interesting feature of the Thai Yai style is the perforated designs along the eaves which are an architectural identity of the
*************************************
Attractions
Amphoe Khun Yuam
Bua Tong Fields at Doi Mae U-kho
The Dok Bua Tong (may be classified as wild sunflowers) blooms during November painting the entire hilly area of Doi Mae U-kho in brilliant yellow draw flocks of visitors to Khun Yuam district. Camping sites arranged during the Bua Tong Bloom Festival is 26 kilometers from the district on Highway No. 1263.
Khun Yuam Indigenous Cultural Center
Located at Km. 200 on Highway No. 108, the centre has a considerable collection of Thai Yai and other hilltribes handicrafted products. It also displays military accessories and equipment of the Japanese army which entered Khun Yuam district during World War II.
Namtok Mae Surin National Park
Given national park status in 1981, this natural wonder, which straddles Mueang and Khun Yuam districts, encompasses a wildlife and botanical reserve, a huge waterfall and a spectacular terraced mountain.
Namtok Mae Surin, its main attraction, is 37 kilometres from Khun Yuam district. It is a huge waterfall cascading eighty meters down below. Here camping can also be set up.
Wat To Phae
This temple is located 7 kilometres from Khun Yuam having a large beautiful Burmese style Viharn. According to the legend, it is said that raft assembling people used to gather up in this area prior to making a teak trees raft trip to the marketing places.
Amphoe Mae Sariang
Salween National Park
Covering a forested area of 721 square kilometers, the Salawin National Park is on the bank of the Salween or Salawin River on the Thai-Myanma border, about 164 kilometres south of Mae Hong Son. The Salawin River originates from Tibet before winding through China, Thailand and Myanmar for a total distance of more than 3,000 kilometres. The river is regarded as the borderline between Myanmar and Thailand for a distance of 120 kilometres.
Visitors wishing to take a boat along the river have tocontact the park headquarters for their safety during the journey. The headquaters also provide accommodation and other facilities. To get to the headquarters, one can take Route 1194 from Mae Sariang district for about 4 kilometres, then turn right and continue along a dirt road for 4 kilometres. The best time for boat trip is from March to April when the water level is low and sandy beaches appear. Sceneries along the riverbanks are captivating with forest and mountains and dotted with small hamlets.
For more information, contact Salawin National Park: P.O. Box 8, Mae Sariang, Mae Hong Son 58110
Wat Chomthong
1 kilometres up to a hill near Mae Sariang district, this temple enshrines a huge Buddha image and overlooks the beautiful scenery of Mae Sariang.
Wat Kittiwong
This temple enshrines Lord Buddhas' relics brought from Chiang Mai. The door and window of the chapel are decorated with beautiful stucco designs.
Amphoe Mueang
Ban Rak Thai
This village is situated 44 kilometres from Mae Hong Son via Pha Suea Waterfall near the Thai-Myanmar border. Founded by Kuomintang Chinese soldiers, the village is famous for its breathtaking views and tea cultivation. Visitors can see how the tea is grown and harvested and taste some delicious U-long tea. An annual Tea Tasting Festival is held at Ban Rak Thai in February.
Morning Market Near Wat Hua Wiang on Sihanatbamrung Road, this lively market is crowded from early morning till 9 am. It is where visitors can see people lifestyle and buy various local food and produces.
Pha Bong Hot Springs
Covering an area of 3 acres, Pha Bong Hot Spring is located about 11 kilometres from town on Highway No.108. There are facilities for mineral water bath for health purpose.
Phraya Singhanatracha Memorial
Situated at the foot of Doi Kong Mu, this monument commemorates the first governor of Mae Hong Son. Phraya Singhanatracha is a Thai Yai native from Burma (Myanmar). He was regarded by the people as the governor of Khun Yuam Town, which was to the south of Mae Hong Son. Later, he was officially installed as the governor of Mae Hong Son by the King of Lanna in 1874.
Phu Khlon Health Treatment
At Phu Klon Country Club (Tel: 0 1473 8013), natural black mud which has skin care and therapeutic benefits has been discovered. Now the area is developed to be a spa resort. To get there, you can travel 6 kilometres from town on Route 1095 (Mae Hong Son-Pai), then turn left into Ban Kong Mai Sak Ban Huai Khan Road and continue for 4 kilometres.
Tham Pla Pha Suea National Park
This comprises the following attractions:
Tham Pla - About 17 kilometres from town on Highway No. 1095 (Mae Hong Son-Pai), Tham Pla is a popular attraction of Mae Hong Son. The surrounding areas are brooks and cool hilly forests suitable for relaxation. A special feature is the hollow cave filled with numerous freshwater fish known as Pla Mung or Pla Khang, which is of the same family as the carp. The fish are quite safe from being caught as they are believed to belong to the gods.
Namtok Pha Suea - This waterfall is in Tambon Mokchampae about 26 kilometres from the provincial seat on Route 1095 to Pai district with a left turn at Km. 191. It is a large fall with its water source in Myanmar and runs full during the late rainy season (August-September).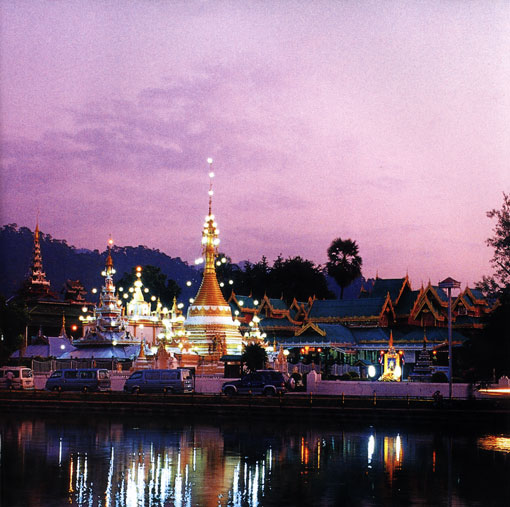 Wat Chong Kham
This is an old temple on the bank of the swamp Nong Chong Kham. It was built in 1827 by Thai Yai artisans. The pillars are gilded in golden flakes. The temple houses a large Buddha statue with a lap width of 4.85 metres cast by Burmese craftsmen. Another statue is a replica of the Buddha image in Wat Suthat in Bangkok.
Wat Chong Klang
Next to Wat Chong Kham is Wat Chong Klang where a replica of the Phra Phuttha Sihing is installed on an altar. There are several interesting items such as wooden figurines of human and animals depicted in the Phra Vejsandon Jakata (pronounced Cha-dok which means one of odd stories of former incarnations of the Buddha) created by Burmese craftsmen and brought over in 1857, painting on glass about the Jakata and on Prince Siddhartha, as well as on the ways of life of the time. The captions are in Burmese. There are also notations that the paintings were by Thai Yai artisans from Mandalay.
Wat Hua Wiang
Another name is Wat Klang Mueang. This temple is on Sihanatbamrung Road next to the morning market. Built in 1863, the temple houses the Phra Chao Pharalakhaeng, a Buddha statue dressed in beautiful attire. It is a replica of a major statue in Mandalay, Myanmar.
Wat Kam Ko
Opposite Wat Phra Non, Wat Kam Ko is a Burmese-style temple built in 1890. A special architectural feature is the cover over the passageway from the entrance arch to the chapel. It also stores text in Thai Yai script chronicling the Thai Yai history.
Wat Phra Non
This temple at the foot of Doi Kong Mu houses a 12-metre long reclining Buddha image in the Thai Yai style. The image was cast in 1875 by Phranang Miah, the wife of Phraya Singhanatracha. Another main feature of the temple is the two large sculpted lions lying side by side, presumably providing the passage for those going up to pay homage to the Holy Relic on the hill.
Wat Phra That Doi Kong Mu
Erected by the first governor of Mae Hong Son, this temple reflects the strong influence of the Burmese. The highlights of this attraction are the two lavishly decorated pagodas. Also, this hilltop temple affords an exceptional aerial view of the city and surrounding mountains and valleys.
Amphoe Pai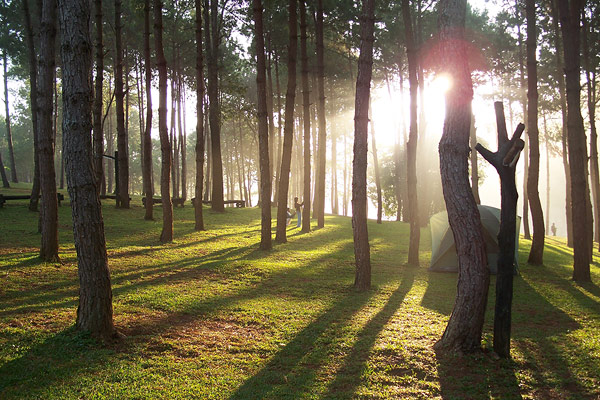 Hilltribe Trekking
Mae Hong Son has several tour operators that specialise in trekking. Treks are designed to expose visitors to splendor nature and a variety of hilltribes. The adventure may combine jungle walks with elephant riding and river rafting. The cool winter months of November to February are the best time to travel. Avoid the height of the rainy season in August and September. In the dry months between March and May, the temperature can soar uncomfortably high for strenuous mountain hikes.
Huai Nam Dang National Park
At Km. 65 on the Pai-Mae Malai route (No.1095), there is a turning leading to the headquarters of the Huai Nam Dang National Park. Visitors can spend the night in tents to wait for the spectacular views of sunrise and mist-shrouded mountain views in the morning. Cherry blossom during January adds charms to the attraction.
Mountain Biking
The centre for mountain biking adventure is Pai district, where several bike shops rent out bikes and gear to tourists. Bike tours explore nearby and remote hilltribe villages, waterfalls and hot springs. The best time is November-May. Experienced guides are ready to lead biking parties through breathtaking back-country trails for up to a week. There are natural cycle paths through the forest, first trod by animals then beaten by man. They range from as narrow as a single persons stride or as wide as an elephant or ox cart.
Pong Dueat Hot Spring
This is a geyser type hot spring which rises up 2 metres high. At Km. 42 of Route 1095, there is a six-kilometre road leading to the hot spring.
Rafting along the Pai River
This is an exciting and delightful recreation. The Pai itself is the longest river of Mae Hong Son originating from mountain ranges in Laos which flows through Pai district and eventually joins the Salawin river in Myanmar, a total distance of 180 kilometres. With an average depth of some 7 metres, the riverbed is mainly pebbled. There are several sectors eminently suitable for rafting past rapids and natural scenery including beautiful waterfalls.
Tour operators in Mae Hong Son town or in Pai district can provide the necessary service, some also able to provide elephant rides. The best time for rafting is from October to March.
Tha Pai Hot Spring
This is another attraction in the area of Huai Nam Dang National Park. The hot spring is two kilometres off Route 1095 at Km. 87. It has an average temperature of 80 celcius. Steam from the spring permeates the site in the morning creating fascinating sights. The area is also rich in teakwoods and suitable for overnight camping.
Amphoe Pang Mapha


Tham Lot

Tham Lot is a huge cave system once a dwelling place of pre-historic man. Archaeologists have discovered ancient clay pottery and a number of carved wooden coffins inside the rooms of the cave. Tham Lot is located some 77 kilometres from town. Between Km.138 and Km.139 of Route 1095, a small roads lead to the cave after a 9-kilometre drive. Here nature has created an exotic subterranean wonder of darkness and mystery.
A brook runs from the cave mouth through to the other side of the mountain. It is a route where visitors may travel by raft or by foot to explore the 1-kilometre-long cave full of stalactites and stalagmites. There are services provided by villagers to guide visitors in their exploration at 100 baht per group. Accommodation as well as camping site is available near the Tham Lot Nature Study Centre in front of the cave mouth.
Tham Mae Lana Cave
Another cave in Pang Mapha where stalactites and stalagmites can be found is the Mae Lana Cave. The stream inside the cave is habitat to eyeless and colorless fish that live in dark environment. This cave is suitable only for adventurous tourists. Travel along Route 1095, then branch off into Route 1226 to Ban Mae Lana where a local guide is available. Mae Lana Cave is 4 kilometers beyond the village
Amphoe Sop Moei
Mae Ngao River
Mae Ngao River is a good water route for shooting the rapids. Adventure travel tourists can enjoy the unspoiled scenery along the river banks. Services available from tour operators in Mae Hong Son.